ADVANTAGE OF THE RESCUELATOR ®

The use of the Rescuelator in described situations would have the following advantages.

ADVANTAGES problem 1 The rescuer is not forced to rely on mouth so reducing danger to the rescuer by allowing him to retain his own breathing equipment


• No risk of infection (Aids/hepatitis)


• Survival chances of victim are much improved and there is less chance of brain damage * Resuscitation is not physically demanding and does not require an above average level of fitness. Simple to learn and use Always on standby No danger of hyperventilation Resuscitation of victim can be started immediately the need arises irrespective of the environment * Easy to use while transporting the victim. Carry, driving, swimming, ascent to surface

• Can be initiated under water
• Less chance of inhaling water or gas


• Respiration achieved with 21% 02 instead of 17% 02 with mouth to mouth resuscitation


• No carbon dioxide intake


• Victim can cough

ADVANTAGES problem 2

The necessity of having a reserve air supply was recognised by the diving industry several years ago. The major instructional organizations SSI and PADI already consider it a compulsory part of the diving equipment. Although not so developed this trend is now being followed by many fire brigades around the world. *The Rescuelator fulfils this function with the same ease and comfort as a standard reserve air source, allowing the donor to help the victim to a safe environment while supplying him with clean, breathable air.

THE RESCUELATOR® SAVES LIVES

The Rescuelato is the only product on the market with this unique combination a reserve air supply and a compact, safe, easy to use resuscitator. This device will enable divers/firemen to respond immediately and effectively in an emergency while at the same time ensuring their own safety. This alone makes the Rescuelator more than worth its low Purchase price.
1. inspect mouth 2. chin lift 3. place rescuelator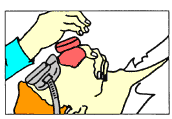 4 a. diving situation: inflate / exhale / inflate ........ 4 b. fire situation: inflate / exhale / inflate .........
INFORMATION
: